Product News
Spot sales Allen-Bradley 2711P-K10C4D6 PanelView Plus 6.

October 19, 2020
Allen-Bradley 2711P-K10C4D6 | PanelView Plus 6 Graphic Terminals Operator Interfaces
PanelView Plus Terminal, Windows CE 4.1, Open Windows CE 4.1, 1000,Color, Keypad, Ethernet - RS232 Base Unit, 24V DC,128 MB CompactFlash - 128 MB, Standard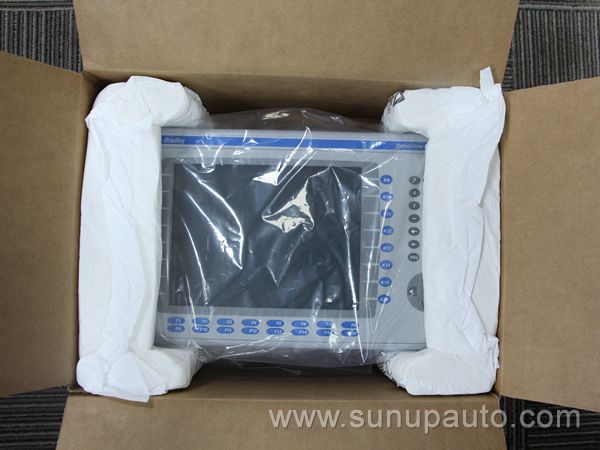 Our Bulletin 2711P PanelView™ Plus 6 Graphic Terminals let you monitor, control, and display application status information graphically. These terminals offer the open-platform flexibility of the Windows® CE operating system. They are available in 4…15 in. standard display sizes. FactoryTalk® View Studio Machine Edition software lets you program all of your PanelView Plus 6 graphic terminals.
PanelView Plus 6 400 Graphic Terminals
Includes a 4 in. flat-panel color display with 320 x 240 resolution and 18-bit graphics
Supports operator input via keypad (10 function keys) and touch screen

PanelView Plus 6 600 Graphic Terminals
Includes a 6 in. flat-panel color display with 320 x 240 resolution and 18-bit graphics
Supports operator input via keypad (10 function keys) and touch screen

PanelView Plus 6 700 Graphic Terminals
Includes a 6.5 in. flat-panel color display with 640 x 480 resolution (minimum) and 18-bit graphics
Supports operator input via keypad (22 function keys), via touch screen or via keypad and touch screen
PanelView Plus 6 1000 Graphic Terminals
Includes a 10.4 in. flat-panel color display with 640 x 480 resolution (minimum) and 18-bit graphics
Supports operator input via keypad (32 function keys), via touch screen or via keypad and touch screen
PanelView Plus 6 1250 Graphic Terminals
Includes a 12.1 in. flat-panel color display with 800 x 600 resolution (minimum) and 18-bit graphics
Supports operator input via keypad (40 function keys), via touch screen or via keypad and touch screen
PanelView Plus 6 1500 Graphic Terminals
Includes a 15 in. flat-panel color display with 1024 x 768 resolution (minimum) and 18-bit graphics
Supports operator input via keypad (40 function keys), via touch screen or via keypad and touch screen
PanelView Plus 6 Specifications
Catalog Numbers 2711P-K7C4Dx, 2711P-T7C4Dx, 2711P-B7C4Dx, 2711P-K7C4Ax, 2711P-T7C4Ax, 2711P-B7C4Ax, 2711P-K10C4Dx,
2711P-T10C4Dx, 2711P-B10C4Dx, 2711P-K10C4Ax, 2711P-T10C4Ax, 2711P-B10C4Ax, 2711P-K12C4Dx, 2711P-T12C4Dx,
2711P-B12C4Dx, 2711P-K12C4Ax, 2711P-T12C4Ax, 2711P-B12C4Ax, 2711P-K15C4Dx, 2711P-T15C4Dx, 2711P-B15C4Dx,
2711P-K15C4Ax, 2711P-T15C4Ax, 2711P-B15C4Ax, 2711P-K4M5A8, 2711P-K4M5D8, 2711P-K4M20A8, 2711P-K4M20D8,
2711P-K4C5A8, 2711P-B4C5A8, 2711P-K4C5D8, 2711P-B4C5D8, 2711P-K4C20A8, 2711P-B4C20A8, 2711P-K4C20D8, 2711P-B4C20D8,
2711P-K6M5A8, 2711P-T6M5A8, 2711P-B6M5A8, 2711P-K6M5D8, 2711P-T6M5D8, 2711P-B6M5D8, 2711P-K6M20A8,
2711P-T6M20A8, 2711P-B6M20A8, 2711P-K6M20D8, 2711P-T6M20D8, 2711P-B6M20D8, 2711P-K6C5Ax, 2711P-T6C5Ax,
2711P-B6C5Ax, 2711P-K6C5Dx, 2711P-T6C5Dx, 2711P-B6C5Dx, 2711P-K6C20Ax, 2711P-T6C20Ax, 2711P-B6C20Ax, 2711P-K6C20Dx,
2711P-T6C20Dx, 2711P-B6C20Dx, 2711PC-K4M20D8, 2711PC-B4C20D8, 2711PC-T6M20D8, 2711PC-T6C20D8, 2711PC-T10C4D8