Emerson AMS Trex Device Communicator. Enables HART or Fieldbus Module device communications, 5.7 inch touchscreen display, intrinsically safe. The AMS Trex Device Communicator improves efficiency with a modern, intuitive user experience that includes a larger display, touchscreen, and task-based UI. Device Dashboards, advanced diagnostics, and troubleshooting tips help you fix issues in the field when you find them.

Emerson AMS Trex Device Communicator
The Emerson AMS Trex device communicator is designed for comfortable, one-handed, all-day operation in the field. It is packaged in an evenly-balanced form factor with a rugged hand strap so it is easy to hold, even when working in tight spaces. It comes standard with 32 GB of application memory, providing plenty of space to customize with the apps of your choice. With built-in Bluetooth, USB, and WiFi connectivity, data can be moved to and from the communicator using whichever connectivity option is most convenient.
The Trex communicator features a 5.7 inch resistive touchscreen display that is easy to use with bulky work gloves. The adjustable backlit screen can be adjusted to save power and adapt to dark environments or bright sunlight, ensuring a crisp display that is always easy to read.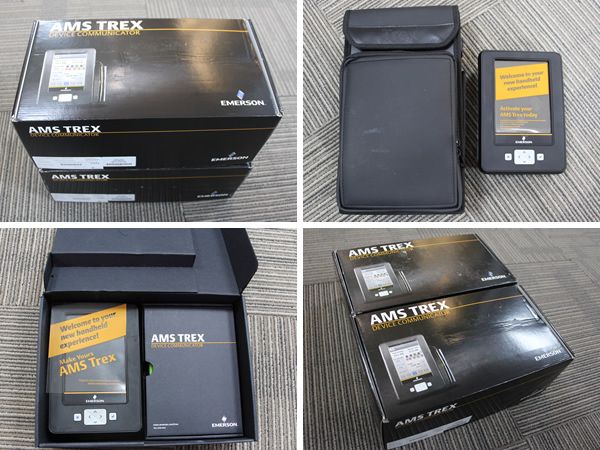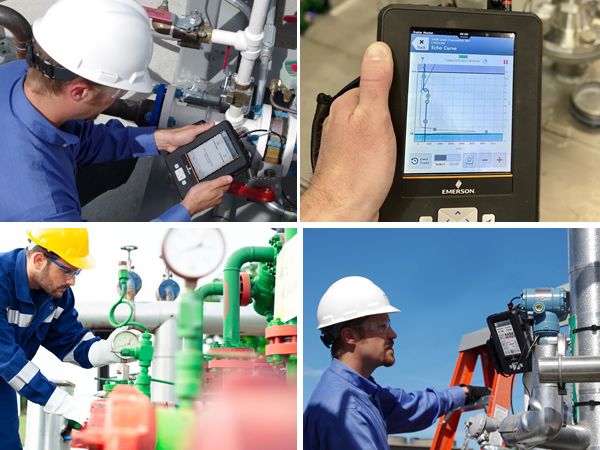 Emerson AMS Trex Device Communicator Product Features:
√ Includes Hart and Fieldbus applications
√ Includes Product Certifications ATEX, CSA (US/Canada) and IECEx Intrinsically Safe (includes FISCO as applicable)
√ Wireless capability
√ Includes 3 Years of Standard Support
√ Includes Carrying Case
√ Microprocessor: 800 MHZ ARM Cortex A8/NXP
√ Memory: Internal Flash 2 GB NAND and 32 GB extended flash
√ RAM: 512 MB DDR3 SDRAM
√ Display: 5.7 in color VGA resistive touchscreen
√ Battery Operating Time: 8+ hours of typical use
√ Operating Temperature: -4 to 122°F
√ Enclosure Rating: IP54
√ Shock Tested to survive a 1-meter drop test onto concrete
√ Power the loop functionality
√ Quickly resolve field devices issues with advanced diagnostics
√ Configure and test valves inline
√ Intrinsically safe
√ Automatically synchronize field data with AMS Device Manager
√ Upgrade software and apps online

Emerson AMS Trex Device Communicator Ordering Information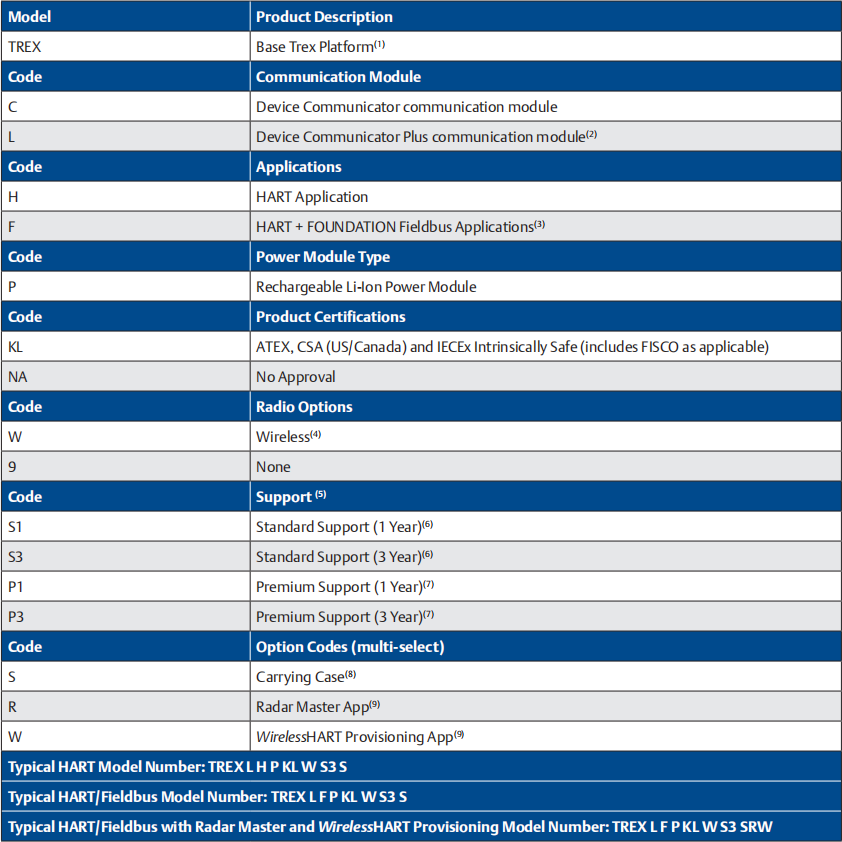 (1) Includes AC Adapter, USB Cable, Lead Set with connectors, Hand Strap, Approvals and Certifications guide, and Get Started flyer. ValveLink Mobile, Calculator, and PDF Viewer applications are available at no charge once the AMS Trex unit is activated.
(2) Includes additional Lead Set with connectors.
(3) Includes FOUNDATION Fieldbus Power Plug when ordered with Device Communicator Plus communication module (L).
(4) Includes Wi-Fi and NFC radios. Available only in countries where spectrum approval has been obtained.
(5) Includes 1-year warranty against manufacturing defects unless otherwise stated.
(6) Includes technical support and software updates.
(7) Includes Standard Support and coverage against accidental damage.
(8) Leave blank for no carrying case.
(9) Only available on select AMS Trex models.
Emerson AMS Trex Device Communicator best selling model:
TREXCHPNAWS1S
TREXCHPNAWS3S
TREXCHPNAWP1S
TREXCHPNAWP3S
TREXCHPKLWS1S
TREXCHPKLWS3S
TREXCHPKLWP1S
TREXCHPKLWP3S
TREXLHPNAWS1S
TREXLHPNAWS3S
TREXLHPNAWP1S
TREXLHPNAWP3S
TREXLHPKLWS1S
TREXLHPKLWS3S
TREXLHPKLWP1S
TREXLHPKLWP3S
TREXCFPNAWS1S
TREXCFPNAWS3S
TREXCFPNAWP1S
TREXCFPNAWP3S
TREXCFPKLWS1S
TREXCFPKLWS3S
TREXCFPKLWP1S
TREXCFPKLWP3S
TREXLFPNAWS1S
TREXLFPNAWS3S
TREXLFPNAWP1S
TREXLFPNAWP3S
TREXLFPKLWS1S
TREXLFPKLWS3S
TREXLFPKLWP1S
TREXLFPKLWP3S
...