Industry News
Eaton low voltage and industrial control product price adjustment

December 28, 2021
Notice on price adjustment of low voltage and industrial control products
Dear partners
Thank you for your support and trust in Eaton!
Under the joint influence of multiple factors such as the continuous rise in the price of raw materials and the tension of global supply chain, production and operation costs are rising. According to the company's research and decision, Eaton will adjust the prices of some products from January 15, 2022. Specific products and adjustment ranges are as follows: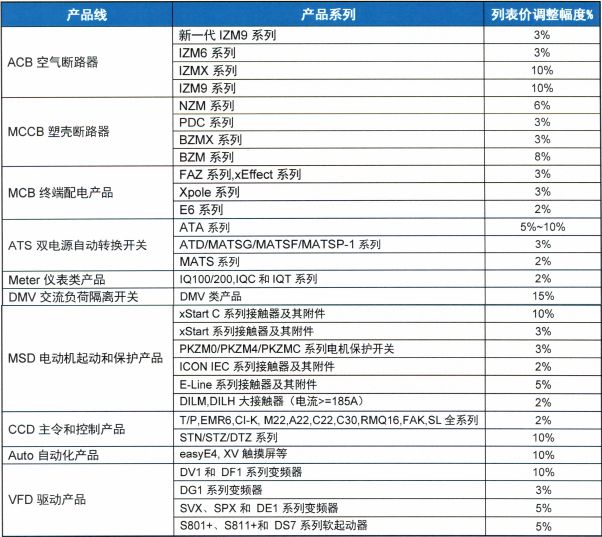 Note: the price adjustment proportion of some models and specifications is slightly different from the overall proportion of the product line, which shall be subject to the price list in 2022.
The new price will be officially implemented from 0:00 on January 15, 2022. Orders confirmed by wells received before January 14, 2022 will be executed according to the current table price. For orders shipped from January 15, 2022, the new face price will be implemented. From now on, the total amount of orders placed within one month shall not exceed twice the average order amount in 2021.
Thank you for your understanding and support! We will continue to strengthen product innovation, continuously improve services and continuously enhance brand advantages. Develop towards high performance, high quality and intelligence. May we go hand in hand and win-win future!
Best wishes!
Eaton Electrical, APAC
December 16, 2021