Industry News
Notice on price adjustment of Schneider low voltage distribution products in March

March 08, 2022
Notice on price adjustment of Schneider low-voltage power distribution products on March 7, 2022

Dear Schneider Electric authorized distributor:
Hello!
Thank you for your attention and support to Schneider electric business!
Due to the rise of supply chain costs caused by the sharp rise of raw material prices, in order to better adapt to the market environment and provide better services, Schneider electric energy efficiency management low voltage China business department and home China business department decided to adjust the price of low-voltage distribution products. The adjustment ranges of product series and list price are as follows: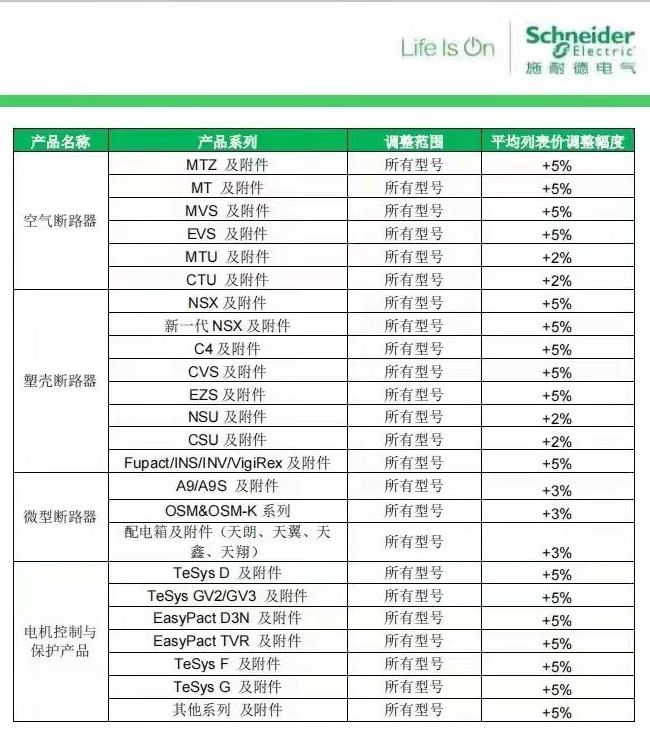 Note: individual models or accessories are affected by factors such as exchange rate, cost and product strategy, and the adjustment range is slightly different. Please refer to the price list of new low-voltage product lines to be released in March.
The new list price of each product line will take effect at 0:00 on March 25, 2022. The latest delivery date of standard orders and inventory orders confirmed by partners before the new list price takes effect is April 15, 2022. If the goods are not picked up later than this period, the order will be cancelled (special treatment can be applied for if Schneider Electric is out of stock).
Thank you for your attention and support to Schneider Electric's low voltage distribution business!
If you have any questions about this adjustment, please consult the local sales personnel of Schneider Electric.
Best wishes!
Schneider Electric
March 7, 2022