Pepperl+fuchs KFU8-GUT-EX1.D Temperature Converter with Trip Values. 1-channel isolated barrier, Universal usage at different power supplies, Thermocouple, RTD, potentiometer or voltage input, Redundant TC input, Current output 0/4 mA ... 20 mA, 2 relay contact outputs, Configurable by PACTware or keypad, Line fault (LFD) and sensor burnout detection, Up to SIL 2 acc. to IEC/EN 61508 / IEC/EN 61511, Housing width: 40 mm, Number of channels: 1-channel, Trip relay, Safety Integrity Level (SIL): SIL 2, Rated voltage: 20 ... 90 V DC / 48 ... 253 V AC.
KFU8-GUT-Ex1.D Function
This isolated barrier is used for intrinsic safety applications.
The device converts the signal of a resistance thermometer, thermocouple, potentiometer, or voltage source to a proportional output current. It also provides a relay trip value.
The removable terminal block K-CJC-** is available as an accessory for internal cold junction compensation of thermocouples.
A fault is signalized by LEDs acc. to NAMUR NE44.
The device is easily configured by the use of the PACTware configuration software.
Signal Converters
KCD2-UT2-Ex1 Universal Temperature Converter
KFD0-TR-Ex1 RTD Converter
KFD2-GUT-Ex1.D Temperature Converter with Trip Values
KFD2-PT2-Ex1 Potentiometer Converter
KFD2-PT2-Ex1-5 Potentiometer Converter
KFD2-UT2-Ex1 Universal Temperature Converter
KFD2-UT2-Ex2 Universal Temperature Converter
KFU8-GUT-Ex1.D Temperature Converter with Trip Values
KFD0-TT-Ex1 Thermocouple Converter
KFD2-UT2-Ex1-1 Universal Temperature Converter
KCD2-UT2-Ex1 Universal Temperature Converter
KFD0-CC-Ex1 Current/Voltage Converter
KFD2-UT2-Ex1 Universal Temperature Converter
KFD2-UT2-Ex2 Universal Temperature Converter
KFD2-WAC2-Ex1.D Strain Gauge Converter
KFD2-PT2-Ex1-1 Potentiometer Converter
KFD2-UT2-Ex2-1 Universal Temperature Converter
KFD2-PT2-Ex1-4 Potentiometer Converter
KFD2-PT2-Ex1-6-Y112844 Potentiometer Converter
KFD2-PT2-Ex1-Y98312 Potentiometer Converter
KFD2-WAC2-Ex1.D-Y1 Strain Gauge Converter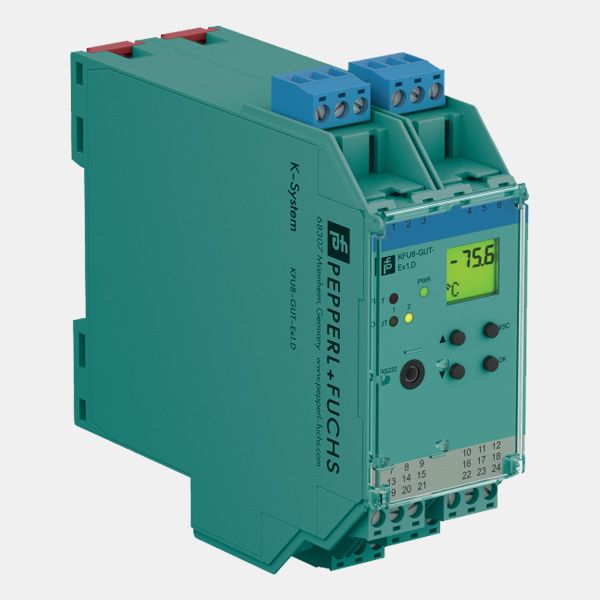 Pepperl+fuchs KFU8-GUT-EX1.D Temperature Converter with Trip Values