The MTL5582B connects to a 2-, 3-, or 4-wire resistance temperature device (RTD) or other resistance located in a hazardous area, isolates it and repeats the resistance to a monitoring system in the safe area. The module is intended typically (but not exclusively) for use with Pt100 3-wire RTDs. Switches enable selection of 2-, 3-, or 4-wire RTD connection. The MTL5582B should be considered as an alternative, non-configurable MTL5575, for use in RTD applications where a resistance input is preferred or needed instead of 4/20mA. The design is notable for its ease of use and repeatability. The number of wires which can be connected on the safe-area side of the unit is independent of the number of wires which can be connected on the hazardous-area side. The module drives upscale in the case of open circuit detection.
MTL4582B - MTL5582B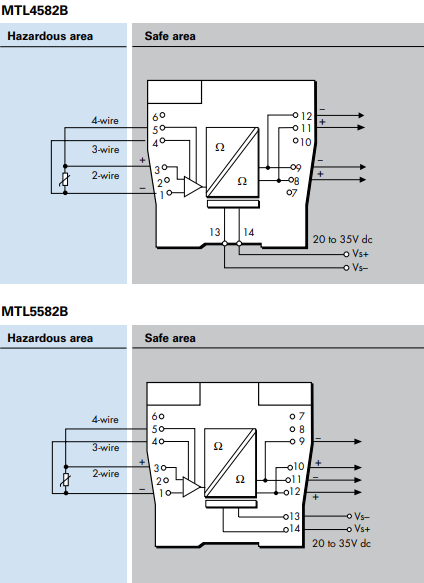 SPECIFICATION
Number of channels
One
Location of RTD
Zone 0, IIC, T4 hazardous area
Div. 1, Group A, hazardous location
Resistance source
2-, 3-, or 4-wire* RTDs to BS 1904/DIN 43760 (100Ω at 0°C)
*user selectable by switches (factory set for 3-wire)
Resistance range
10Ω to 400Ω
RTD excitation current
200μA nominal
Output configuration
2, 3 or 4 wires (independent of mode selected for hazardous area terminals)
Output range
10Ω to 400Ω (from a 100μA to 5mA source)
Temperature drift
±10mΩ/°C typical (0.01%/°C @ 100Ω)
Response time
To within 4% of final value within 1s
Safety drive on open-circuit sensor
Upscale to 420Ω nominal
Transfer accuracy@20°C
<0.15Ω at excitation current 1 - 5mA
<0.25Ω at excitation current 0.5 - 1mA
LED indicator
Green: power indication
Power requirements, Vs
33mA at 24V
35mA at 20V
28mA at 35V
Maximum power dissipation within unit
0.8W at 24V
1.0W at 35V
Safety description
Terminals 1 and 3
Uo = 1.2V Io = 4mA Po = 1.2mW Um = 253V rms or dc
Non-energy-storing apparatus ≤ 1.5V, ≤ 0.1A, ≤ 25mW; can be connected without further certification into any IS loop with an open circuit voltage < 5V.
Terminals 1, 3, 4 and 5
Uo = 6.51V Io = 10mA Po = 17mW
SIL capable
These models have been assessed for use in IEC 61508 functional safety applications up to SIL 1.